Design
Simulation
Excellence
Innovation
Efficiency
+9,600 HOURS OF SIMULATION A YEAR
+40,000 DESIGN HOURS A YEAR
We are a company made up by a team of engineers and professionals specialized in engineering design applied to different sectors.
A highly qualified team assists our clients with a wide variety of services to develop the most efficient production processes –from the original idea to the materialization of the project.
After a thorough research on each product, we outline production stages, identify the necessary resources for efficient operations, analyze workers interaction at workstations, and select robot models according to their main attributes, scope, tools, etc.
We use simulation to analyze and validate our selection in order to guarantee results. We don´t  only simulate the process, but also (robot-device) equipment interaction, generating the appropriate software for process start up.
We create innovation by developing efficient systems in all areas.
We design and validate production processes by means of simulation tools, performing a thorough analysis in order to identify the most efficient production line, adding to our experience in 3D CAD / CAM / CAE environments and expertise in the manufacturing industry.
Excellence, efficiency, and innovation as our main goal
Using state-of-the-art technology and tapping into our competitive edge of being in the 4.0 Industry, we are able to attain the highest quality standards in our services.
In addition to excellent processes and products, we generate top-level documentation for use in equipment manufacturing and assembly, process description, and work instructions.
Our clients, our core
Our main objective is to cater for the needs of each and every one of our clients with a comprehensive solution, bringing in innovation, experience, and quality to reduce time and costs and raise project profitability, staying ahead by maximizing the use of the available technological tools.
Being well acquainted with our clients' needs in the short, medium and long term allows us to offer the best possible solutions and build strong, honest and long-lasting client relationships.
A highly qualified team
Our competitive advantage is driven by innovation, thus we seek to stay on top of the latest technology in our field.
Our priority is to encourage and promote the human and professional development of our team to meet the company's goals.
Our competitive advantage is driven by innovation, thus we seek to stay on top of the latest technology in our field. Our priority is to encourage and promote the human and professional development of our team to meet the company's goals.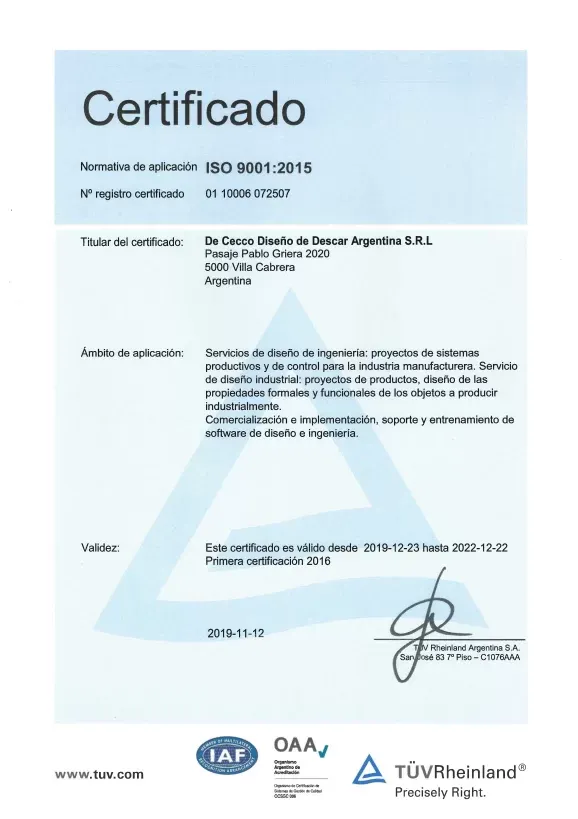 Ergonomics
Risk Factor Analysis
Workstation Analysis
Postural Load Assessment
Manual Handling of Loads Assessment
Assessment of Repetitive Movements
Environmental Analysis
Product Ergonomics Analysis
Robotics
Offline Programming
Process Validation
Equipment Definition
Design and Validation of Manufacturing Functions
Automation
Control Systems Design

Process Automation
Virtual Commissioning
Discrete Events
Process Assessment
Process Simulation
Timing Calculation
Structural / Thermal / Fluids FEM
Structural Calculation
Thermal Calculation
Fluid Calculation
Discrete Production Processes
Facility Layout Planning
Plant Layout
Process Flow Analysis
Manufacturing Optimization
Work Cell Optimization
Line Balancing
Assembly Process Development and Validation
Robot, Simulation and Programming
Standardized Design Criteria and Packages
Robotic Systems
Process Optimization
Robotic Simulation
Layout Design
Machines, Devices and Tools
Tools and Accessories
Calipers
Drilling Devices / Jigs
Assembly Devices / Jigs
Assembly Automation
Operator Working Platforms
Material Handling Equipment
Welding Devices
Manufacturing Devices Design
Documentation
Dimensional Engineering
Ergonomics Assessment
Quality Control Planning
Root Cause Analysis
Reengineering
GD&T Consulting
GD&T Development and Application
Standard Library Development
Operator Work Instructions
Data Management
AUTOMOTIVE INDUSTRY:
With over 20 years of experience as a supplier for the automotive sector, Descar Argentina provides top quality services and precision engineering for plant production processes.

In such a highly competitive industry, we focus on delivering solutions that guarantee efficiency, flexibility, and reliability. We perform design and simulation work for Body-In-White welding lines, control gauges, and production processes.
RAILWAY INDUSTRY:
We perform design and simulation work for new production processes. Applying our expertise, we identify the best solutions to attain defined objectives efficiently. One of our most outstanding works is the design and planning of a cargo carriages manufacturing line.
AERONAUTICS INDUSTRY:
Innovation is a must in this sector and it raises the bar on requirements to be met by supplier companies regarding timely product delivery for manufacturing and full compliance of internal standards.
HEAVY AND MEDIUM WEIGHT INDUSTRY: We design reliable and flexible processes that comply with industry demands, thus offering the best solutions to achieve the defined objectives. In this industry, we work on the design and simulation for hopper lines, drum welding, etc.
OIL AND GAS INDUSTRY: DESCAR has met the highest quality standards, developing extremely reliable and efficient devices. One of our most outstanding projects is the manufacturing process for perforating guns.
AGRICULTURAL INDUSTRY: DESCAR has successfully offered efficient solutions and smart problem solving, by applying the criterion based on our knowledge of production processes, our expertise, and the precision and reliability of our devices. In this industry, we work on the design and simulation of automated welding cells.
AEROSPACE INDUSTRY:
The high quality standards of this sector entail major production challenges. Resorting to the latest technology, Descar Argentina faces each project efficiently.